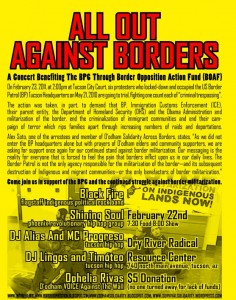 ALL OUT AGAINST BORDERS
A Concert Supporting the Struggle Against Border Militarization.
February 22nd
7:30 Food – 8:00 Show
All Ages – $5 Donation
At Dry River Radical Resource Center
740 N. Main Ave
Tucson, AZ
With:
Blackfire
Shining Soul
DJ Alias and MC Progreso
DJ Lingos and Timoteo
Speaker: Ofelia Rivas of O;odham Voice Against the Wall
Background:
On February 23, at 2pm at Tucson City Court, six protestors who locked-down and occupied the US Border Patrol (BP) Tucson Headquarters no May 21, 2010 are going to trial.
The action was taken, in part, to demand that BP, Immigration Customs Enforcement (ICE), their parent entity, the Department of Homeland Security (DHS), and the Obama administration end militarization of the border, end the criminalization of immigrant communities, and end their campaign of terror which rips families apart through increasing numbers of raids and deportations.
Alex Soto, one of the arrestees and member of O'odham Solidarity Across Borders states, "As we did not enter the BP headquarters alone but with prayers of O'odham elders and community supporters, we are asking for support once again for our continued stand against border militarization. Our messaging is the reality for everyone that is forced to feel the pain that borders inflict upon us in our daily lives.
The Border Patrol is not the only agency responsible for the militarization of the border – and it's subsequent destruction of Indigenous and migrant communities – or the only benefactors of border militarization." Soto states.
MORE INFO AND ACTION:
www.oodhamsolidarity.blogspot.com
www.survivalsolidarity.wordpress.com
www.borderopposition.blogspot.com
Posted by blackfire