About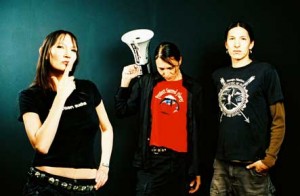 Left to right:
Jeneda Benally – Bass, Vocals
Klee Benally – Vocals, Guitar
Clayson Benally – Drums, Vocals
BLACKFIRE is comprised of two brothers and their sister Jeneda, Clayson and Klee Benally. Born into the heart of a political land dispute area on Black Mesa in the Navajo Nation, this family's powerful music reflects the Hopes, Freedoms, and Barriers of today's world.
BLACKFIRE's style encompasses traditional Native American, Punk-Rock and "Alter-Native" music and bears strong socio-political messages regarding government oppression, relocation of indigenous people, eco-cide, genocide, domestic violence and human rights
BLACKFIRE sometimes combines performances with their Native American dance troupe, The Jones Benally Family.
The late godfather of punk Joey Ramone declared them "Fireball Punk-Rock." BLACKFIRE is internationally acclaimed and has a strong grassroots following around the world owing to their frequent touring of Europe, the U.$., Canada and Mexico since 1989. They were the first Native American band to take part in on the Van's Warped Tour and were also featured performers in the "Festival in the Desert," in the Sahara Desert in Mali, Africa along with the Touareg group Tinariwen.
In 2007 BLACKFIRE released their highly-anticipated double disk concept album entitled, "[Silence] is a Weapon." Recorded in Durango, Colorado by producer Ed Stasium (Ramones, Living Color, Talking Heads), the album features guest vocals by Cyril Neville & Jones Benally. Disk one features 12 blasts of Blackfire's unique brand of label defying high-energy, social-political music Disk two comprises a special selection of 12 traditional Dine' (Navajo) songs.
BLACKFIRE was awarded "Record of the Year" & "Native Heart" at the 2008 Native American Music Awards.
In the recent past, BLACKFIRE has been awarded the Native American Music Awards "Group of the Year" for their "Woody Guthrie Singles" recording, and "Best Pop/Rock Album for their full length release, "One Nation Under."
BLACKFIRE was recently featured on NPR's "Edge of the Rez". Blackfire has also been on two of the Vans Warped Tours, over 13 tours to europe, 2 in the Sahara Desert, in Mexico, & Canada.
BLACKFIRE's music has recently been featured on "What's new Scooby Doo: New Mexico, Old Monster", a tribute album to The Ramones (Argentinian release), "Beyond Warped" a new DVD about The Van's Warped Tour, a documentary short called "Beyond Voting" which aired on PBS, the "Festival in the Desert" feature documentary and will be part of an upcoming tribute album to Peter LaFarge.
BLACKFIRE only plays all ages venues, whether concerts, festivals or clubs. They strongly promote the respect of all cultures. They do many workshops, lectures and school residencies.
CLICK HERE TO VIEW WORKSHOP & PRESENTATION DESCRIPTIONS